Man am I feeling it today. I've decided hopefully on a weekly basis to update my workouts and diet for the week; partially to hold myself accountable and hopefully to help others who are trying to get on track as well. I was supposed to go grocery shopping yesterday but that didn't exactly happen so I had to go fast food on the diet today.
Breakfast: 260 Calories
Mcdonald's Egg White Delight
Sugar Free Red Bull
Lunch: 346 Calories
Potbelly's Skinny Regular Chicken Sandwich with buffalo sauce, swiss, lettuce, onion, & pickle on wheat. Potbellys has awesome nutrition counter you can use on their
site.
Snack: 170 Calories
Special K Double Chocolate Protein Meal Bar
Dinner: 450 Calories
Strawberry, Banana, and Pineapple smoothie with whey protein and apple juice.
Pre-Workout w/water
Post-workout Snack: 200 Calories
1/2 Toasted English Muffin 3/4 tbs. natural peanut butter
Total Caloric intake: 1426
Calories burned per MyFitness Pal: 300
Net calories: 1126 < right under my suggested amount
Now for those of you who think this is a good way of going about dieting I'm afraid to tell you that eating this way is not going to get you looking like this chick....
The terrible thing about fast food is the amounts of sodium! My sandwich at lunch alone probably had more sodium in it than my daily intake should be, same goes for Mcdonalds. It will help with the progress of losing a small amount of weight but I can definitely tell that my stomach is VERY bloated today despite the extra water I drank. The redbull doesn't help with this either but it is good to start your day with a source of caffeine to jumpstart your metabolism and my taste buds have yet to gain a liking towards green tea.
On to the workout!
I always like to start my workouts with Cardio to get my pre-workout drink to kick in.
Today I did an interval running outdoors
1/4 mile walk
1/8 mile fast walk
1/4 mile sprint
1/8 mile jog
1/2 mile sprint
1/4 mile fast walk
Total: 1 1/2 Mile- About 18 mins. (keep in mind I had to chase a puppy a few times)
100 Jumping jacks - I don't know what it is but I love the shit out of jumping jacks and I randomly do them throughout the day as well, sometimes to help wake me up.
Then I started my actual workout, while Winnie watched in amusement
Notes:
I could not for the life of me figure out how to do the Oblique Crunch so I skipped over it and did an extra rep of each of the other workouts
On the Russian Twist I did bicycles with my legs instead of leaving them stagnant.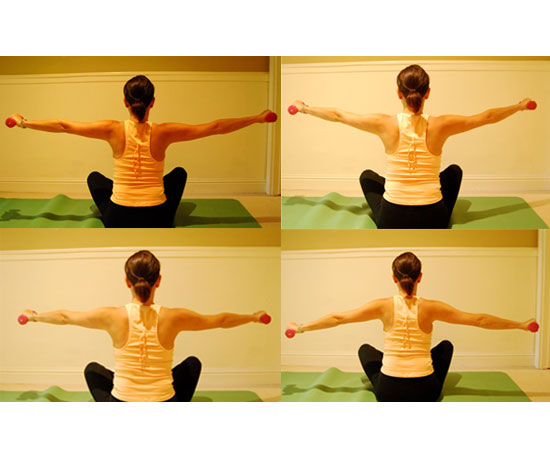 Source
How are you workouts working out for you?